While some Nectar cannabis stores received an extensive makeover in 2019, each and every Nectar dispensary received some care and improvements from our hard-working Facilities Team.
They installed lights, locks, showcases, and new shelving. They also provided maintenance to the stores' interiors, entryways, and parking lots. So, we want to give a HUGE shout-out to Nectar's Facilities Team! Check out the results of their hard work below.  
Barbur had a head-spinning facelift in the form of a fresh new coat of paint. The plain white house was turned Nectar-proud with a bold, gold chimney declaring to all that this is the spot to get good weed. The parking lot was also smoothed over in more ways than one, making the whole experience more welcoming for Budtenders and customers.
Before: 
After: 
Burlingame got the works, with a fresh coat of paint on the inside and out. Previously blending into the background behind the gas station on Terwilliger, now the store pops out as a black and gold Nectar beacon.  
Before: 
After:
Hall received some care and attention in its garden, with over 30 plants added to the surrounding of the store. The building was also branded as a Nectar haven with new channel lettering and illuminated signs placed all around the building. 
Before: 
After: 
Hazelwood went from blending in with the trees, to standing out as a beacon for 'trees'. The quaint building went from your standard log cabin to being a sleek building with a touch of character. 
Before: 
After: 
Mississippi went from having a cozy home feel outside, to being proudly Nectarized with black and gold paint. It now pops out as the home that it is. 
Before: 
After: 
Monatavilla had any and all confusion cleared up, with bold  lettering added to the front with black and gold finish. Now when you're driving down SE Stark Street in Portland, you can't miss this Nectar haven!  
Before: 
After: 
River Road in Eugene used to be camouflaged by the trees, but now it stands out proud with a fresh coat of black and gold paint on it's outside. 
Before: 
After: 
Salem previously blended into the strip mall style lineup with matching pale blue paint. Now the store stands out of the lineup with bold styling.  
Before: 
After: 
Sandy received the makeover of all makeovers, with a custom mural added to the outside wall! This Nectar mural peels back the layers to reveal the Portland skyline in our bones. Home is where the heart is, and we love our Green Mile store. 
Before:
After: 
Springfield was cleaned up and Nectarized with landscaping around the entire parking lot and new channel letting with a gold leaf sign. The parking lot also had the carport removed and new vaulted doors were added to the interior.
Before: 
After: 
Tillamook received a full facelift of its exterior, with new paint, a new gold leaf sign, and landscaping around the entire parking lot. Even more heavy lifting is planned in the spring, with new channel letting ordered and waiting for good weather to be installed. 
Before: 
After: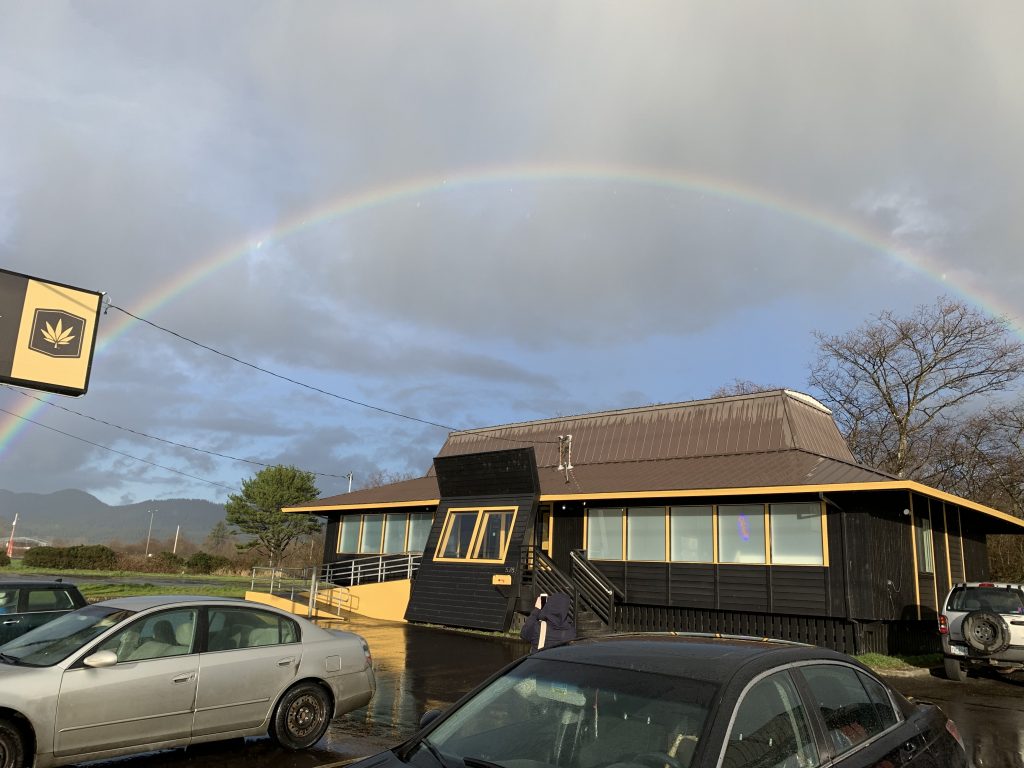 Keep an eye out for even more  improvements planned in 2020!