Written By: Daniel Cina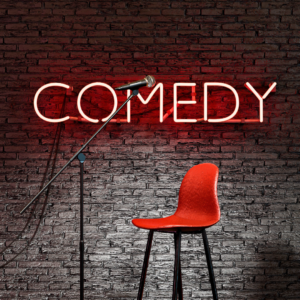 The relationship between cannabis and comedy is a match made in comedic paradise, where laughter and smoke intertwine in a symphony of hilarity! It's no secret that cannabis has a knack for turning even the simplest jokes into laugh-out-loud masterpieces. After enjoying some gorgeous flower, both comedians and audiences alike are transported to the elevation station where the vibes are always golden.
From classic stoner comedies that have become cult favorites to uproarious stand-up sets that leave audiences in stitches, the herb adds a dash of spontaneity and a sprinkle of absurdity to the comedic landscape. It's like a secret ingredient that unlocks a treasure trove of comedic gold, and unleashes waves of uncontrollable laughter. 
710 Puff Puff Laugh Comedy Show
Laughter is inherent to having good experiences and making memories. That is because laughter requires a smile, and when you're smiling you're having a fun time. Well at Nectar, we love making smiles and we love good vibes even more. Our community deserves nothing less and so we are here to deliver some amazing and fun vibes to Ontario, Oregon. We are proud to announce the Nectar sponsored 710 Puff Puff Laugh Comedy Show. Featuring an amazing line of 4 comics, we hope the Ontario community is ready for a night of laughing and good cheer as we prepare to celebrate another stoner holiday! 
The Comedy Line-Up 
This event is all about good vibes and community, and nothing brings community together like laughter. These four amazing comics for the 710 Puff Puff Laugh show are all local to the Ontario and Treasure Valley areas and are eager to bring the belly bursting jokes we all love. So without further ado, here is the lineup for this exciting herb themed comedy show!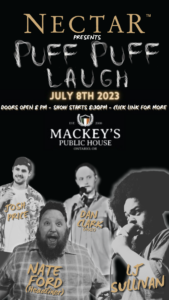 Dan Clark– Host 
Nate Ford -Headliner
This amazing lineup is primed and ready to make July 8th an absolute spectacle that you won't be forgetting any time soon. It is going to be a great night for sure, that you don't want to miss out on! Especially if you enjoy some premium gorgeous green herb from Nectar's Ontario 1st Location beforehand! 
Date Location and Ticket Information
The 710 Puff Puff Laugh  show will be on July, 8th 2023 to help kick off the 710 holiday! The show will be taking place at Mackey's Public House in Ontario Oregon (111 SW 1st St, Ontario, OR 97914). The doors for the show open at 8:00pm with this amazing event starting at 8:30pm There is a $5 dollar cover charge per person at the door for this show, however you can be rest assured that it will be money well spent! 
If you are hungry Mackey's Public House has a full bar and menu with fantastic food to be enjoyed before the show. After all, you may need to end those munchies before all the laughter starts! They are an amazing establishment and we are thrilled to have them as our host for this Nectar sponsored comedy event.
Established in 2008 by owners Angie and Shawn Grove, Mackey's Public House over the years has become a shining example of friendliness and  community camaraderie. With a large patio, live Summer concert series, and Pub Lounge area, this establishment is designed to bring people together. The joy of promoting togetherness in their community that owners Angie and Shawn instill in this amazing business is encapsulated in the Mackey's Public House Motto," There Are No Strangers, Only Friends That Haven't Met Yet".
See You in Ontario!
After this amazing show, be sure to stop by your local Nectar for some amazing 710 shopping. We will be running awesome deals on a large selection of our concentrates for the holiday. Our team of friendly budtenders will ensure that you find your perfect selection in 710 shopping. 
We hope to see you there and sincerely hope that you have a great time if you do make it. It will be a night of laughter as well all come together to celebrate 710 as a community in Ontario, Oregon. It is truly an honor to be sponsoring a local event that promotes engagement and togetherness. We are so thankful as a company that we have this opportunity to further foster our beloved communities and help provide the stage for this event to take place!
*** Please Remember to stay safe, take care of yourself and have a designated driver should you consume before this event. There is no on-site consumption allowed and please remember to respect and follow all the rules of the establishment when present at this event***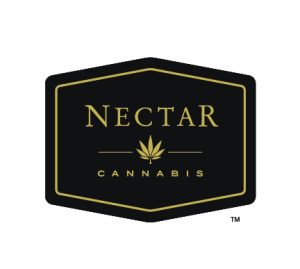 a