Written By: Daniel Cina 
Summer is a time of adventure, and outdoor amazement, but fun in the sun also brings the heat. It can be so hot that sometimes all you want to do is just grab a refreshing drink to cool off during your summer activities. Well at Nectar, we are here to elevate your summer beverage experience. So read on and take your pick of our refreshing cannabis beverages that will not only cool the summer heat, but also provide an amazing elevating experience. 
Keef Soda Cannabis Beverages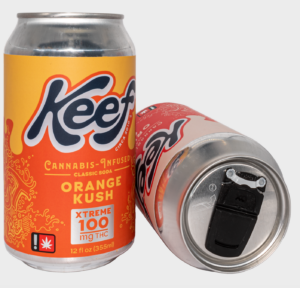 If you are looking for a refreshing carbonated cannabis beverage then look no further than Keef Soda! Now available at all Nectar locations! Indulge in the delicious flavors with these infused delights that will take your taste buds on a wild ride that you won't soon forget. Let's dive into what makes Keef Sodas so special! Keef Sodas are expertly crafted with the finest cannabis extracts you can find, ensuring a delightful blend of flavors and effects you'll love. Each sip carries the perfect balance of flavor and cannabinoids for a deliciously elevating experience.  
 A flavor fiesta, Keef Sodas come in an incredible array of tantalizing flavors that are the perfect refreshment on a hot day. From Grape, to my favorite Blue Razz to Orange, or even the classic and refreshing Cola alongside many other flavors. There's a taste to suit every palate. The burst of flavor with a hint of cannabis essence makes every sip an adventure for your senses that you'll never want to come back from.  
Keef Sodas allow you to personalize your experience. With their precisely measured dosages, you have control over the amount of cannabis extract you consume. Whether you're a seasoned cannabis connoisseur or new to the cannabis beverage scene, Keef Sodas offers a range of strengths to cater to everyone's needs. Keef Soda prides itself on using high-quality ingredients. Every bottle is carefully crafted with natural flavors, pure cannabis extracts, and premium sweeteners, ensuring a top-notch taste and a clean, refreshing finish. It's a truly satisfying beverage from start to finish.
Uncle Arnies Cannabis Beverages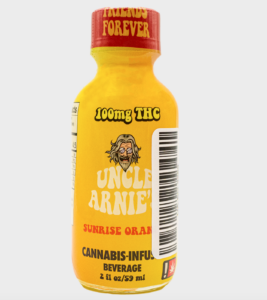 If Keef soda isn't sounding like your cup of tea then not to worry! At Nectar, we care about finding you the right product, which is why we also have options in non carbonated cannabis beverages. Fortunately we have one of the best drink options in the category with Uncle Arnie's cannabis beverages. With a mission of bringing premium cannabis beverages at an affordable price, Uncle Arnie's always has a delicious and high quality cannabis beverage up his sleeve! 
Uncle Arnie's cannabis beverages each contain 100mg of THC in each bottle, and come in delicious flavors such as Ice Tea Lemonade, Magic Mango, Sunrise Orange, and more! Each bottle also possesses proper dosages on the back so you have control of your elevation. Their delicious cannabis beverages are a burst of flavor in every sip and the elevation they provide is incredibly high quality due to Uncle Arnie's crafting process. When crafting their cannabis oil for this amazing product, Uncle Arnie's uses a process called sonication. Through the application of ultrasonic frequencies, the THC particles in the oil are broken down into smaller particles. 
The result of this amazing process translates to the amazing elevation that Uncle Arnies cannabis beverages provide. Due to the breaking down of the THC particles, your body can absorb them faster which contributes to a smoother elevation in a fraction of the time it typically takes. Uncle Arnies is an amazing option in a cannabis beverage with a multitude of flavors, and a superior manufacturing process that provides a premium product. 
Cannabull Nano Syrups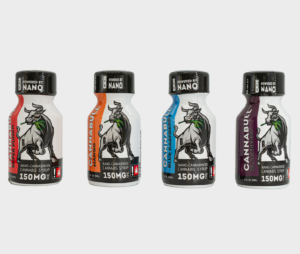 If you are looking for a cannabis beverage with an amazingly high potency that will carry you through any summer adventure, then my recommendation would be to run with the Cannabull. Cannabull Nano Syrups by Crown B Alchemy are the perfect option for a deliciously potent cannabis beverage that will have your head in the clouds. Made with their time release nano formula, Cannabull is a cannabis syrup that hits quick, harder, and lasts longer. 
I personally enjoy mixing their syrups with a clear carbonated beverage such as Sprite, but Cannabull is truly a versatile product with multiple different flavors such as Blue Raspberry, Super Punch, Mango, and so many more! Crown B Alchemy even has mixology recommendations for Cannabull, so you can find your perfect summer beverage to beat the heat!
Cannabull syrups can range from 100mg all the way up to 500mg, and are an incredibly potent cannabis beverage. With this amazing product, it is important to dose properly, and I personally would not recommend it for people who are new to cannabis. Cannabull from Crown B Alchemy has a reputation for being one of the strongest edibles available in Oregon and for good reason. Cannabull is an incredibly high quality product, providing a superbly potent elevation in your cannabis beverage. 
Beat the Heat with a Cannabis Beverage 
We carry all of these products for purchase at your local Nectar, so you can beat the summer heat while still enjoying all that summer has to offer. Whatever your activities are, be sure to elevate the experience with one of these amazing products. Experience a high quality elevation during your Summer adventures while enjoying the rush of a cool refreshing beverage. Take your pick from any of these versatile cannabis beverages and find your perfect mix in elevation and refreshment this summer!