Written By: Daniel Cina
Life is all about trying new things and enjoying new experiences that you normally wouldn't have at home. Well December of 2022, I had the opportunity to travel to Vancouver Canada where I got to experience something that few cannabis users in America get the chance to have. In this article, I'd like to share with you my experience at the New Amsterdam Cafe, Vancouver's oldest and most successful cannabis cafe!
What is a Cannabis Cafe

A cannabis cafe is fairly self explanatory, but I will give you the run down anyways. A cannabis cafe is a restaurant type establishment that offers food, drink, and yes that's right, cannabis! It is a place where all of your stoner needs can be met right at your table. At most establishments as well, there is an option to have all of your food and drink infused with either THC or CBD! Most places even have bong and rig rentals!
What is also interesting about a cannabis cafe is the fact that many also serve as dispensaries. This makes the Canadian cannabis cafe truly an all inclusive experience for all of your cannabis needs.
The New Amsterdam Cafe
Once I knew I was traveling to Vancouver, the first thing I did was search for a potential cannabis cafe which is when I came across the New Amsterdam Cannabis Cafe. This cannabis cafe was opened in 1998 making it officially older than me. The New Amsterdam Cannabis Cafe was founded as a chill stigma-free place where stoners could gather in an upbeat urban setting. Over the years they have aimed to stay true to this as pioneering the cannabis cafe in Vancouver, while fighting for cannabis de-stigmatization in Canada long before their federal legalization.
When I entered this famous cannabis cafe, I was immediately thrilled with its cozy and rustic appearance to offset the cold winter I just walked in from. The New Amsterdam Cafe had two levels, the upstairs cafe and dispensary, and the downstairs lounge. The upstairs possessed a dispensary counter capable of satisfying all cannabis needs with some tables where food could be ordered.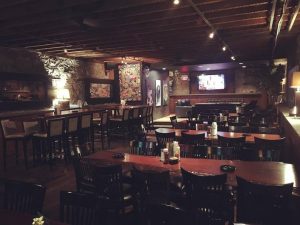 After a quick look at the top level I eagerly made my way down to the lounge where they had awesome couches, and beautiful tables flanked by cool psychedelic posters featuring Bob Marley and The Pink Panther(smoking a joint). That's right folks, this is where the fun happens. This cannabis cafe had a fully stocked menu featuring joints, flower, and even a dab bar! It was truly a candy shop for the cannabis experience.
My first stop had to be the dab bar where I got a nice elevation of some beautiful rosin and it was the perfect way to kick off my night. After that I sat down at a table where I enjoyed a delicious infused cream soda before ordering a joint to smoke. The joint itself was Sour Apricot, and to my joyful surprise, they had an infused option which contributed to an amazing elevation and even more amazing experience to go along with it.
The Canadian Difference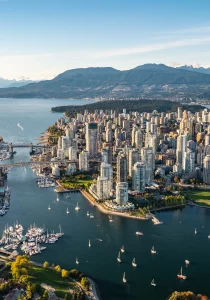 What makes the cannabis cafe capable of existing is Canada's current outlook and regulations on cannabis at their federal level. These regulations can only be described as much more friendly towards cannabis with the Canadian Government enacting the Cannabis Act of 2018 which legalized cannabis with government regulation. This act made Canada the first major industrialized country to provide legal access to recreational cannabis.
While each Canadian Province has its own specific regulations, the attitude of the government towards cannabis is much more mature than our own in the United States where our industry and communities are still fighting for federal legalization.
This more positive attitude towards cannabis in Canada (especially British Columbia) allows for the existence of the cannabis cafe, which overall in my opinion leads to a stronger communal aspect in cannabis consumption. People can go enjoy a visit to a cannabis cafe, like they can any other coffee shop leading to a community of cannabis users that can enjoy themselves with no shame or stigmatization in their recreational activities.
Final Thoughts
If you are ever interested in traveling to Vancouver, you have to visit the New Amsterdam Cafe or one of the many other cannabis cafes scattered around the city. They provide an amazing experience that contributes to the vibrant cannabis culture of the city. With that being said there is more to Vancouver than just the cannabis cafe. Make sure you hit all the spots should you travel there.
Travel is one of the greatest things anyone can do, as it creates unforgettable enriching experiences. Being able to travel to Vancouver was a blessing, and I hope that you all take the opportunity to travel outside of the USA should you ever have the opportunity. Here's a list of cannabis friendly countries so you can see what international cannabis has to offer! (read here)
***Be sure to not travel with cannabis, even if its to a cannabis friendly country. Taking cannabis on an airplane is still illegal and you could find yourself in trouble with US law or a foreign law enforcement agency.