Written By: Wil Roe
Are you ready to elevate your cannabis experience to a whole new level of convenience and deliciousness?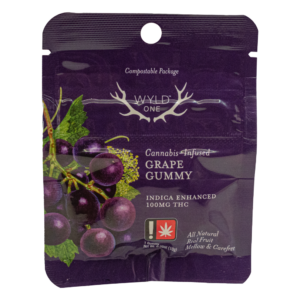 Are you wild and looking for your new favorite edible? Then look no further than Wyld Canna's latest creation – the Wyld One Single Cannabis Gummies! If you're a cannabis enthusiast or looking to explore cannabis-infused products, these delectable gummies are your perfect gateway. Discover the magic of adventure and find out why these delightful treats have quickly become the talk of the the edibles market.
Wyld One's Single Cannabis Gummies: A Sweet Symphony of Flavor: 
One of the most enticing features of these single cannabis gummies is their mouthwatering array of flavors like Sour Peach Mango, Grape, and Strawberry Lemonade. Wyld Canna has mastered the art of crafting irresistibly tasty gummies that cater to every palate, and there's a flavor to suit every taste bud.
 Each gummy is 100mg and comes in three flavors, with a single gummy containing THC, the psychoactive component of cannabis that causes the elevation we all love. These gummies usually kick in after about 40 minutes, providing a convenient and reliable way to enjoy the effects of cannabis. The sensation brought about by Wyld gummies is enhanced by their use of premium cannabis extract, which provides an even more premium elevation 
Find Your Perfect Match with Wyld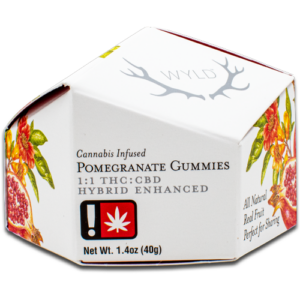 These new single gummies are an absolutely amazing option in edibles from arguably the most reputable businesses in the industry. Their 3 new flavors are not only delicious, but offer versatility in your desired elevation. Need a sativa for a day of summer adventure, then try the strawberry lemonade. Their indica enhanced grape is the perfect choice for couch sinking relaxation while you enjoy your favorite stoner movie. Lastly Wyld's hybrid sour peach mango single is a great choice for a versatile elevation for whatever your activities entail! 
Crafted to perfection and with 100mg of THC, These new single gummies can be trusted in providing the potent elevation that you are looking for in a single cannabis gummy. They provide the perfectly potent elevation to finish off your day or turn your day into an adventure! 
WORLD OF WYLD: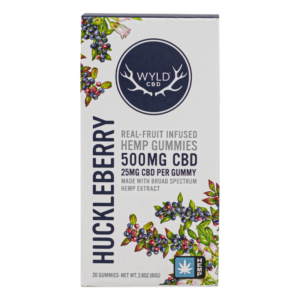 Wyld possesses a number of products beyond these single gummies such as edibles that also provide potential benefits. They have gummies with a number of cannabinoids such as their CBD hemp gummies. These gummies have the potential to provide relief for body pains due to the  way CBD binds to receptors in the endocannabinoid system. 
Whether you're dealing with mild discomfort or need some help unwinding after a strenuous day, Wyld's vast selection has got you covered. In addition to CBD , some of their products also include other popular cannabinoids. These lesser-known compounds in cannabis, such as CBG, and CBN can potentially offer unique benefits to enhance the overall experience and providing a more well-rounded effect.
Now Available at Nectar Markets: Exciting news for all cannabis enthusiasts!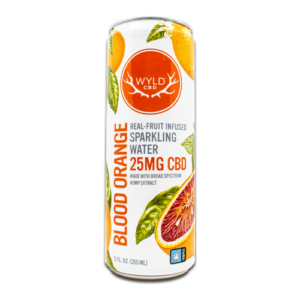 Wyld Ones Single Cannabis Gummies are now available at Nectar Markets. This partnership brings Wyld Canna's premium products closer to you and adds to their ever-expanding line of products, making it easier than ever to explore their delectable range. Nectar Markets, known for curating our top-notch cannabis products, offers a premium, friendly and reliable shopping experience to acquire these amazing edibles. 
Our dedication to quality and customer satisfaction makes us the perfect match for Wyld products. Whether you prefer to visit a physical store or shop online, Nectar Markets has got you covered. Save yourself some time and utilize our user-friendly platform for seamless shopping experience from the comfort of your home for curbside pickup.
Quality Assurance and Responsible Consumption:
Wyld Canna takes pride in its commitment to quality and safety. Their gummies are made using premium cannabis extracts and undergo rigorous testing to ensure they meet strict quality standards. Their products are also compliant with local regulations, giving you the confidence to indulge responsibly.  Wyld Ones Single Cannabis Gummies are a testament to this brand's commitment to creating exceptional cannabis-infused products that cater to diverse preferences. 
With their enticing flavors, precisely measured dosing, and availability at Nectar Markets, these gummies are the ultimate treat for any cannabis enthusiast. Indulge in a sweet symphony of flavors and experience relaxation like never before with Wyld One's Single Cannabis Gummies. Head over to Nectar Markets today and embark on a delightful journey into the world of cannabis-infused treats. Happy munching! 
***Always consume responsibly and in compliance with local regulations***