Written By: Summer Hussain
When you walk into a dispensary, you are hit with an array of contrasting cannabinoids. There is not just THC and CBD anymore. There is THCA, CBC, CBDA, THCV and CBN but my all-time favorite cannabinoid is CBG. Cannabigerol is known as the mother of all cannabinoids.
Yet the million-dollar question is what exactly is so great about these benefits?  
Let's start with it's background: 
Cannabigerol (CBG) is derived from young cannabis plants since older plants contain more THC/CBD. There are a few strains that have extremely high concentrations of cannabigerol i.e. The White CBG. It can be quite difficult to produce higher amounts of it but growers have learned to manipulate the technique by cross-breeding.  
How does Cannabigerol work? First & foremost, this cannabinoid is non-psychoactive, meaning you will not get high. Most Cannabigerol products contain THC but there are a few products with lower amounts of THC and higher ratios of Cannabigerol. "CBG works by binding to both receptors (CB1 and CB2) where it is thought to strengthen the function of anandamide, a neurotransmitter that plays a role in enhancing pleasure and motivation, regulating appetite and sleep, and alleviating pain." Since it is known to be a role enhancer, I personally find that I love using it on the days when I am not feeling like myself.  
You are probably thinking now, where has the stuff been all my life?!?! 
Well, here's a couple options that can be found in all retail Nectar stores! 
Wyld

Pear THC/CBG 1:1 Gummies
If you are looking to get a little high, the Pear THC/CBG from Wyld are excellent for all outdoor and indoor fun. Whether you're looking to go for a bike ride or play a game of UNO with the family, these gummies are the perfect formula for stress-relief. 
Pear 200mg/500mg Hemp Gummies with CBD+CBG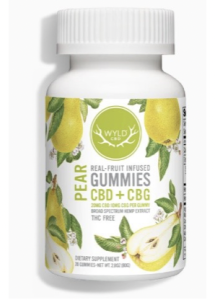 If THC is a little too much for you, go for the Pear Hemp CBD+CBG gummies. Since these gummies contain CBD, your body may feel more relaxed, calmer, and balanced. The Pear Hemp gummies have been touted to work as excellent agents for those with major/minor aches and pain in the body. Nectar carries a 200mg and 500mg option of these goodies! 
Gron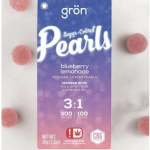 Blueberry Lemonade Pearls CBG 3:1 
Interested in bite size pieces? The Blueberry Lemonade Pearls  from Gron are tiny, juicy and coated in sugar. The pearls are excellent for on-the-go CBG and provide more of a kick by having a ratio of 3:1. Since there is a lower amount of THC, these daytime pearls are great for a day of watching the clouds or cleaning out your garage!    
 Blue Razzleberry Mega Pearl 1:1 CBG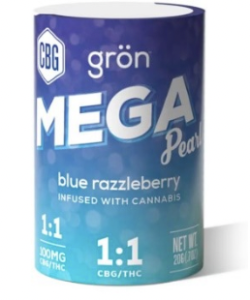 Not a bite size person? Try out the Blue Razzleberry Mega Pearls with THC/CBG! Gron was not joking when they said MEGA pearls because these edibles are double the trouble. One minute, you will be watching Netflix. The next minute, you will not be hungry, but the kitchen's pleasures will be calling out to your sweet high glory. Caution, this 1:1 hits pretty hard depending how many milligrams are consumed! 
Milk Chocolate w/Sea Salt 3:1 CBG 100MG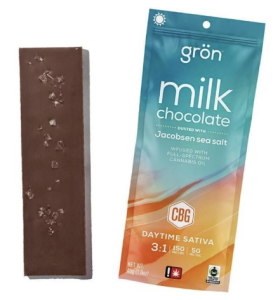 Not interested in a gummy? Gron has something to satisfy all of your sweet tooth needs! The Milk Chocolate w/Sea Salt 3:1 100MG Bar provides the same effects as the BB Lemonade Pearls but instead of gummy fun, you get chocolatey fun, mmmmmm yuuuuuummmmy. 
(C02 Company) Mama Lou's 
 
CBG Calm Tincture 
The C02 Company's brand, Mama Lou's is known for its holistic approach on cannabis products. The CBG Calm Tincture is a 1:1:1, meaning you get THC, CBD, and CBG all in one. This tincture has been known to assist with anxiety and body tension along with other herbal benefits. This product contains Ayurvedic herbs like amla and turmeric for anti-inflammatory properties, ginger for stomach issues, and lemongrass for high blood pressure/pain. This tincture has become my favorite staple for the days that seem harder than the rest! Mix it with tea for an extra boost of calming effects.  
CBG RSO 1G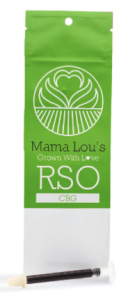 Rick Simpson Oil aka RSO is a "marijuana extract made utilizing a solvent to extract cannabinoids." Mama Lou's CBG RSO is the only CBG RSO that Nectar carries. In my opinion, it is the most beneficial RSO one can consume. It has the potential to make your body feel like its on cloud 9! Caution before using this product! There is a certain method for dosing, please do research on RSO and see if it is a good fit for you. 
Interested in seeing if Cannabigerol is beneficial for you? 
Stop by your local Nectar and speak with any of our budtenders for more information! If this article has only peaked your interest in cannabinoids then be sure to check out our articles on THCA,CBD,CBN,and terpenes so you can fully explore the wild world of cannabinoids!