Written By: Daniel Cina 
A piece of the joy that comes from cannabis are the experiences and adventures you make while enjoying its elevation. There is nothing quite like a cannabis fueled adventure to heighten your experiences, and today we'll be talking about one of the best places in the world for just that! An excellent choice for travelers who want to experience the best that European cannabis culture has to offer, today we will be talking about cannabis cafes aka coffee shops in the historic city of Amsterdam! 
Amsterdam's Amazement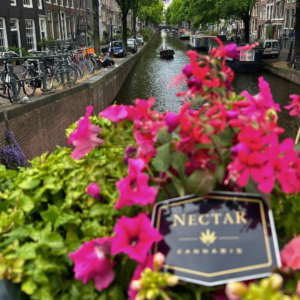 Before diving deep into the cannabis coffee shop experience that is central to your visit to Amsterdam, I would like to take you through some of the other reasons on why this city is the shining jewel of the Netherlands. For starters the city's old architecture such as the Royal Palace plus the unique layout of canals and walking paths which make it an absolutely beautiful place to traverse! My visit yielded stunning views of blooming flowers and unique buildings along the canals, and amazing experiences in a city filled with liveliness. 
With activities ranging from nightclubs to museums such as the Van Gogh  and everything in between, this city truly has something for everyone. One of my favorite activities was a boat tour on the canal where I got to meet other travelers, learn about the history of the city, and enjoy a few drinks in the process.   
Also home to a litany of amazing bars and restaurants featuring traditional Dutch food, there is truly so much to see. Furthermore, the city is easily traversable as the 2nd most bike friendly city in the world behind Copenhagen. Renting a bike to explore the city and the canals was a quick, efficient, and thoroughly entertaining way to travel from place to place.
Coffee shops in Amsterdam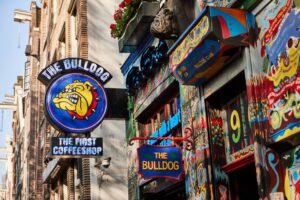 While the name coffee shop can sound a bit misleading,  rest assure that they are the heart of cannabis consumption in the city. With over 150 in the city, Amsterdam is packed with these coffee shops, each with their own rich history to explore. These establishments are the only place to legally acquire cannabis in the city, and are the gathering place for the thriving culture of cannabis enthusiasts in the Netherlands . These shops are also a great place for coffee as the name would suggest. These shops typically serve all sorts of drinks & snacks to meet your seasonal refreshment needs. 
I visited quite a few spots in my few days in Amsterdam, but two of them shined out to me the most in terms of their social atmosphere alongside their high quality kush. The first stop on this coffee shop tour was The Bulldog The First , Amsterdam's oldest coffee shop. Founded in 1975 in the heart of central Amsterdam, this place exhibits the rich history of cannabis cafe's in the city when cannabis consumption was still illegal, by showing off the many old trap doors, hidden storage tricks, and patented orange flags that were used to warn patrons of police raids.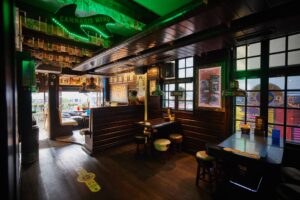 The name of the shop is also indicative of the rich history of cannabis in Amsterdam. The founder of the shop Henk De Vries would stash his flower supply in a cabinet which was guarded by his pet bulldog back in the day, and so when one stoner would ask a fellow stoner where they got their cannabis from, they would say "the man with the bulldog" which coined the coffee shop's name. 
With high-quality cowhide couches, premium selections in flower, exhibits of the shop's cannabis history and an amazing atmosphere, The Bulldog is the most successful coffee shop in Amsterdam, with multiple locations including restaurants, bars, and even a hotel!
What is truly amazing about this establishment is that it has attracted all famous people over the years including actors, athletes, musicians, and cannabis icons who have and still visit Amsterdam. I even had a conversation with their doorman about a picture of him and Mike Tyson on their walls. The Bulldog is an amazing place that I would recommend visiting should you go on this adventure, but I will say it also attracts all the tourists. For those wanting a more local experience, not to worry! I have just the place for you!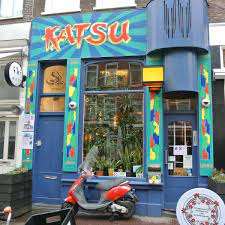 Located just outside of the city center in the De Pijp neighborhood and surrounded by local restaurants alongside a flourishing street market is the Katsu coffee shop. This amazing establishment was opened in 1985 making it another historic site for cannabis enthusiasts. This coffee shop prides itself on its welcoming and friendly laid back atmosphere that makes it the perfect place to enjoy cannabis with your buds. 
My visits to Katsu were filled with friendly conversation with the locals who gave amazing insights for travelers in Amsterdam. Another amazing aspect of this coffee house is that an art gallery is incorporated into the interior design of Katsu for viewing pleasure within their social atmosphere. What is really great about this place is that after achieving your perfect elevation and enjoying a friendly chat with fellow stoners, you can walk through the local street market for all the traditional Dutch sweets! 
While you will have the ability to stop at many coffee shops as I did during my time in Amsterdam, these two historic places were the highlights of my visit and I highly recommend all you adventuring cannabis enthusiasts add them to your list of stops! 
Consumption Preference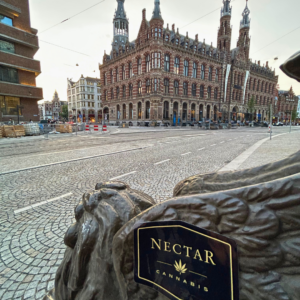 In a previous article about cannabis destinations in Spain, I talked about the popularity of flower, specifically joints as the main mode of consumption in the places I visited. Well the Amsterdam coffee houses were no different in this choice of preference. Almost every individual I observed either procured pre-rolls for on-site consumption or purchased an eighth of cannabis to roll their own. 
Furthermore the strain choice was very different from what we are accustomed to in the West Coast cannabis market where the boundaries of cross-cultivation are pushed to make some of the most premium and innovative cannabis on the planet. The cannabis in the Netherlands was similarly grown to that high standard, but the strains were genetically much closer to their affiliated landrace strains than the West Coast. Since this was the case, getting to enjoy these strains was like engaging in a cannabis history lesson of old school elevation and terpene profiles that are not as common on the West Coast. 
Edibles were another popular option, but many of the shops focused on sweets for edibles usage as opposed to the gummies like in the USA. Muffins and cookies were the most common options on my visits and people often paired them with a cup of coffee or tea for a delicious elevating experience.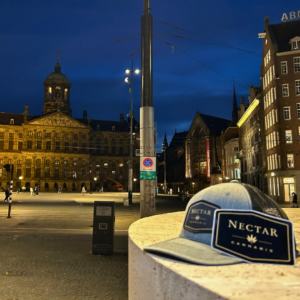 For all you concentrate lovers, solventless options were available at , but unfortunately BHO concentrates are banned throughout most of Europe. No need to fret though as the solventless options we're still plentiful and very high quality. Many of the shelves of these coffee shops were lined with solventless cartridges available for purchase. 
The last item that was very popular for purchase in the coffee shops I visited were the large selections of hash cannabis that were available. Hash is a very popular cannabis item in Europe, and has been widely renowned for its potent elevating effects for centuries across the globe. The most common use I saw for it during my visit to the city, was to roll hash with flower, creating the infused joint of your dreams! I would say the hash that I got to sample in the Amsterdam coffee shops were of impeccable quality, and provided a premium level elevation that made me feel blessed just to have experienced it. 
Overall the options from my experiences were geared more towards flower, but the quality of cannabis and its provided elevation was truly unique and absolutely impeccable. I could not recommend it to all you cannabis lovers enough but after all… there is a reason Amsterdam is the stoner capital of Europe! 
Adventure is Out There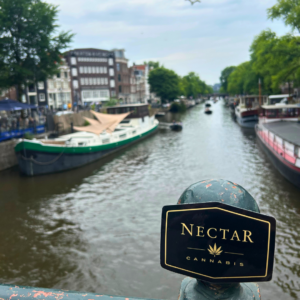 Amsterdam stands at the pinnacle of the European cannabis scene, and the city truly provides the experience of a lifetime for cannabis enthusiasts and all travelers. If cannabis is on your mind then Amsterdam is most definitely a place that needs to be on your travel list! Getting to experience this flourishing city's culture and cannabis was a truly amazing thing to witness.
Remember nothing quite goes together like cannabis and an adventure. After all, cannabis can act as a catalyst to wondrous experiences. So if you are eager to travel and see what the world has to offer then be sure to add Amsterdam, and all its amazing coffee shops to your list! 
Wherever your adventures take you, remember to make the most of your experiences, and take all your amazing stories back with you! Safe travels folks! 
*** Remember, crossing the U.S. border with cannabis is still federally illegal, and is illegal in many other countries. Do not travel internationally with cannabis as you may find your self in legal trouble with foreign law enforcement***