Written By: Daniel Cina & Wil Roe!
In the ever-evolving world of cannabis, one name shines brightly as a beacon of quality, simplicity, and timelessness. Welcome to Portland Heights, located in the vibrant city of Portland, Oregon. This local gem has made a significant impact on the cannabis community in a very short time, and it's no wonder why.
They offer a wide array of expertly packed and hand-finished pre-roll products that encapsulate the very essence of what cannabis is all about. Today, we'll take a closer look at the fantastic lineup of products they serve to the cannabis community, and talk about their newest products to hit the Nectar shelves!
Portland Heights: A Legacy of Quality and Timelessness
In a fast-paced and ever-expanding cannabis market, it can be difficult to stand out amidst the numerous other brands. Well, Portland Heights stands out as the pinnacle of Oregon-grown pre-rolls by encapsulating their spirit in each product. By committing to quality and simplicity, Portland Heights embodies the desire to bring a sense of timelessness to an industry that is still in its youth. There are no frills with their pre-roll products, only premium cannabis with thoughtful and deliberate design for the perfect elevation.
Founded in the heart of Portland, Portland Heights encapsulates the Oregonian Spirit through its commitment to locally sourced, premium quality cannabis from the finest brands in Oregon, for products that can be taken on all your adventures through our beautiful state. When you elevate with them, know that you are elevating with some of the purest Oregon cannabis that brought West Coast flower to new heights!
Defining Excellence: Portland Heights' Amazing Products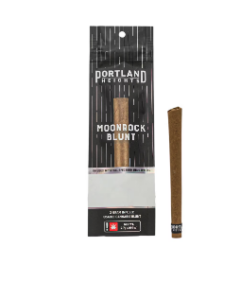 When it comes to pre-rolls, Portland Heights reigns supreme with its amazing selection of joints and blunts. All with their sleek design and elevating effects. All their products can be broken down into two categories, blunts and slims(pre-rolls).
Their first set of products are the classic blunts and slims. Their classic blunt option is a beautiful choice in non-infused blunts. Made with a custom hemp blunt wrap, it is also tapered at the base for a cleaner, more efficient burn. Filled with 2 grams of that beautiful Oregon cannabis, this expertly packed blunt is just one of their amazing products.
The next product is their classic slims which a convenient and elevating 5-pack of 0.7 gram joints. There is no need to sacrifice quality for convenience with these little beauties. The perfect grab-and-go option, the classic slims are an awesome option for a day of adventure with the buds!
Moon Rocks: Sending You to New Heights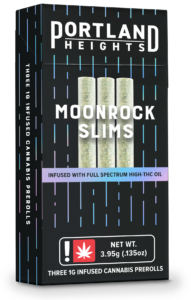 As amazing as Portland Heights classic products are, what is truly amazing about them is their infused pre-roll options which are their moonrock blunts and moonrock slims.
Take all the high-quality specs of the Portland Heights classic blunt and apply premium quality level full spectrum high potency THC oil, you get the moonrocks blunt. It is a truly potent, and high quality option in cannabis consumption, and one of the products that put Portland Heights on the map.
The same can be said for their moonrock slims which feature the same form of infusion. The only difference is the moonrock slims come in a 1 gram pre-roll and 3 pack option. These infused options from Portland Heights are a testament to their careful design and commitment to making a memorable smoking experience which is exactly what these products provide. The amazement doesn't end there though because now it's time to talk about their newest blunt and slims option!
Flavor Infused – A Burst of Elevating Flavors
It's hard to imagine this amazing brand achieving more with their already premium array of products, but they did it anyways, and so I am proud to introduce you to their new Sweet Blunts and Sweet Slims which are now available at all Oregon Nectar locations!
With all the same specs that give their moonrock products a premium consumption experience, their new Sweet line features flavor enhancements to their full spectrum high potency THC oil for a delectable and elevating experience. With flavors like Blackberry Diesel, Guava Gorilla, Key Lime Kush, Mango Dream, and Watermelon Cough, they deliver a burst of premium flavor! Let your tastebuds get in on the elevation, with these delicious new 2 gram blunts and 1 gram pre-rolls!
Reach New Heights Today
At Nectar, we believe in providing accessibility to high quality cannabis. It is our aim to bring you amazing products that encapsulate the beauty of Oregon cannabis alongside our accessible and premium cannabis shopping experience. Whether you are a seasoned cannabis connoisseur or new to the world of weed, Nectar has your perfect selection including all of Portland Height's amazing products. Where ever you are in our beautiful state, your local Nectar has got you covered so you can reach new heights in elevation!
Portland Heights is a name worth remembering in our industry. They encapsulate the essence of what the Oregon cannabis community is all about – quality, diversity, and an unwavering commitment to delivering the best possible experience for cannabis consumers. They exemplify what the cannabis experience is all about, and we are proud to carry their products on our shelves. Whether you are looking for joints or blunts, know that you can reach the next level of premium cannabis consumption with their amazing catalog of products!
Enjoy the Elevation!