Written By: Daniel Cina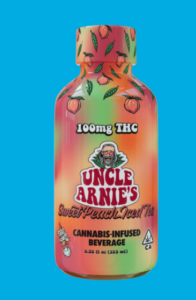 When it comes to thirst quenching cannabis drinks that deliver a smooth yet potent elevation, few do it like our favorite uncle. Uncle Arnie's cannabis beverages are a masterclass in quality, and if cannabis drinks are your preference in consumption then this is a brand that definitely should be on your list. 
From their absolutely stellar packaging to the high quality cannabis product inside, Uncle Arnie's cannabis drinks are a true West coast classic with their unsurpassed beverages. With that being said we are not just here today about how much we love Uncle Arnie because we also have big news to share! 
Uncle Arnie's Product News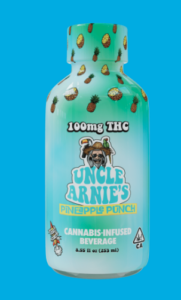 Already available in hundreds of dispensaries across the West Coast, Uncle Arnie's beverages have truly become hot-button products, but they aren't done yet! Their beverages are making big moves in the PNW, with the help of Oregon's premiere cannabis dispensary chain, Nectar Markets! That's right folks we're back at it again, but this time with our favorite Uncle. We are thrilled to announce that we are adding Uncle Arnie's 8 oz beverages to our product lineup in all of our Oregon stores. With over 40 locations in the state, you can easily visit Uncle Arnie at your local Nectar.
Get ready to ride the Uncle Arnie's wave with the four delicious flavors that their 8 oz beverages come in. Enjoy the supreme tropical sweetness of their pineapple punch or experience a tart burst of flavor with their apple juice. The fun doesn't end there though! You can also enjoy their new 8 oz tea drinks as well. Crush your thirst with their refreshing ice tea lemonade or take the sweetness a step further with their sweet peach iced tea. With each flavor possessing 100mg of THC, I can assure you that the crisp and refreshing taste that they provide is only surpassed by the supreme elevation their products provide. 
 Uncle Arnie's Process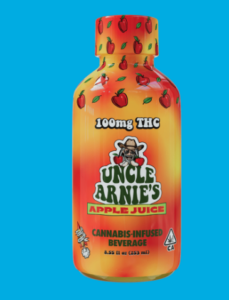 Uncle Arnie's is not your average cannabis drink by any stretch of the imagination. Their products are some of the highest quality that you can find in an elevation providing cannabis drink and there's a reason for it! Their crafting process is unsurpassed and the commitment to their product is undeniable. 
If you have ever had one of their drinks then you will have noticed that you experienced a very smooth elevation that took less time to kick in. This is the magic behind Uncle Arnie's amazing crafting process. When making their products, they use a process called sonication on their cannabis oil. Sonication is the application of ultrasonic frequencies on their cannabis oil. By doing this the THC particles in the oil are broken down into smaller pieces.
The result of the sonication process translates to the amazing elevation that Uncle Arnie's cannabis drinks provide. Since the THC particles in their beverages have been broken down, your body is able to absorb them faster and more effectively which translates to a smooth elevation in a fraction of the time! They truly utilizes an advanced and amazing crafting process which results in the creation of premium cannabis drinks that are truly next level in flavor and elevation. 
Visit Our Favorite Uncle at Nectar Markets 
We are truly thrilled as a business to further our relationship with Uncle Arnie's cannabis beverages by introducing their new product line in all of our Oregon Nectar locations. They are a cannabis brand that is truly special in our industry and we are more than happy to carry them in our dispensaries. 
So the next time you need a thirst quenching cannabis drink, be sure to stop by your local Nectar and try one of Uncle Arnie's 8 oz cannabis beverages! The only thing that can make their products better is a premium shopping experience to go along with it at Oregon's premiere cannabis dispensary. Experience the Gold Leaf difference and the Uncle Arnie's experience at Nectar Markets!