Written by: Wil Roe!
If you have not heard of a Glass company called GRAV then I'm sorry but its okay, we're here to help you. In the next couple of paragraphs, you're going to learn about an amazing company founded in 2004 by visionary David Daily. GRAV is an Austin-based facility in Texas (that manufactures smoking appliances out of Pyrex glass.
That's right Pyrex! The glass that the bowls in your grandma's cupboard are made from. The company's name is derived from its popular namesake product, the Gravitron, an all-glass gravity smoking device.
It all began in Austin, Texas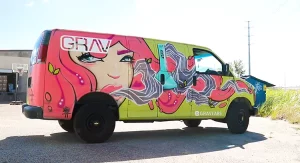 In 2004 GRAV was created in a creative neighborhood in Austin, Texas that attracted artists from many diverse backgrounds. In a less complicated time, while pedicabs whizzed through a run-down warehouse complex, welder sparks flew, and cannabis smoke filled the air. Everyone, from sculptors and ceramicists to glassblowers and custom artists, were united by their love for art, and thus GRAV was born.
Early members of GRAV included glass makers and the aforementioned pedicab drivers (A Pedicab is a cycle rickshaw that is a small-scale local means of transport.) whom all shared a love of creation; it was this diverse group that gave origin to the ground-breaking Gravitron. The original gravity bong made entirely of glass and still one the most effective smoking apparatus in the world today!
GRAV was founded on an immensely powerful desire to produce precise cannabis consumption tools for you and your loved ones. Design and utility are still prioritized in all works with artistic origins because how you smoke is just as essential as what you smoke. Years have been spent developing their scientific aesthetic and expanding a small number of goods into complete families and brands that cover every significant pipe category.
GRAV like Nectar, has always worked to create a fair, egalitarian, and a responsible cannabis industry – as it should be. This business has a greater daily impact on cannabis users than any dispensary, grower, or brand, and it is using this impact to help shape the industry's future. As an inclusive employer and social-justice activist, GRAV continues to support the Marijuana Policy Project and Students for Sensible Drug Policy. GRAV's objective is reflected in its motto, "Find Your Higher Self," which is directed to encourage humans to establish meaningful and constructive connections. That's GRAV now let us talk about the GLASS!
The Tastier the Better, The GRAV OCTO-TASTER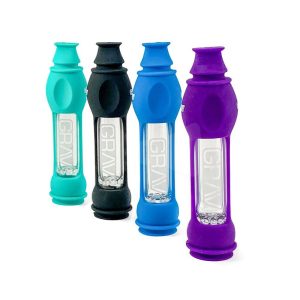 The first item we're going to review is the GRAV Octo-Taster! Designed by Micah Evans and made by Stephan Peirce with flower in mind. When you first grab the Taster off the table, you are immediately caught off guard by the texture. It is fully covered top to bottom in a nice to the touch but rugged enough to keep your taster safe silicone.
You could probably throw it across the room, and it wouldn't break, it's that sturdy plus the silicone covering makes it nearly indestructible. Don't try this at home though – Nectar is not responsible or liable for the purposeful breaking of your piece.
This one is the color of the dog Blue from Blue's Clues, but they come in assorted colors you can find on our website or at any Nectar location. It is small enough to fit in your pocket for all your PNW adventures and on the go smoking and with a silicone shell that covers both sides, it stays extra safe. On one side it caps the bowl to keep your buds safe and sound. On the other, it creates a supple tip to draw from that acts as an ash catcher.
The glass screen on the end of the taster supplies great protection for scooby snacks which I don't know about you but the only scooby snacks I like are the ones you give Scooby-Doo.
Back to the Octo Taster with its 16mm circumference, there is more than enough room in this piece for a nice-sized nug or if you are like me a decent amount of ground-up bud. We went with some amazing Eugreen Farms kush from our local Nectar to test out this piece. To load you will pull back the aforementioned silicone end and load the end of the glass where the glass screen is, it will be the shallower side.
Others have tried to be creative and turn it into a glass blunt, and I will let you do your research on that one before I spoil the surprise. Once you have loaded your taster the next step is to bring it to your lips and light the end like you would any other pipe and then inhale and enjoy.
You will notice a short burst of smoke, but it is not too hot or harsh to choke you up, it is surprisingly smooth. I noticed this because with most one-hitters, chillums, or even spoons I will typically find them a bit harsh but whether it is the length, width, or silicone this thing is smooth and is super convenient and tough for travel, truly pocketable. If you need something quick and easy but still packs a punch in the taste department then the GRAV Octo Taster is for you!
Get going or get Steamrolled a classic love story.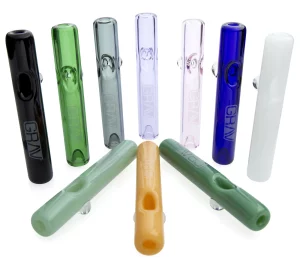 The next item we're going to talk about is the GRAV Steam Roller! Designed by the one and only, the owner and creator of GRAV Glass Dave Daily. If you have never seen a steam roller before you would think we were talking about heavy machinery if this were not a Cannabis Blog you'd be on the right track, but this piece of glass is far from it.
It is unassuming when you see it laying on the table. It barely looks like it is for Cannabis – it looks like something out of Harry Potter and once you figure out how it works, you will feel like a wizard too. When you pick this piece up it has weight to it, you can feel it, the glass is THICK, and the impressive seven-inches uninterrupted glass cylinder has a great feel when holding it. It comes in 13 distinct hues so there is a color for every person's style.
I know it is durable because I dropped it my first time using it. I made a rookie mistake by placing two of my fingers too close to the bowl and I burned my little digits causing me to drop the piece from about three feet up onto hardwood and it held together strong like a Ford.
My heart sank for a minute – that all too familiar feeling swept over me. The one when you know there is nothing you can do but await the results, but it bounced once or twice, and we all rejoiced and continued to take deep, smooth, and tasty hits out of this classic steam roller. You can build up big milky hits before clearing the chamber with a simple lift of a finger.
It is so much fun you might have a challenging time putting it down but once you do it has two little orbs on the bottom for feet that make it sit sturdily on the table while proudly presenting the GRAV logo for all to see.
The seven-inch chamber makes for deep, smooth, and tasty hits. The bowl is more for personals than a session in my opinion but the mouthpiece has an inverted lip that works as an ash catcher to keep those scooby snacks out of your food portal. Grab your favorite Nectar buds like Fox Hollow Floras T@ng Breath before ripping the roller other than that buckle up, enjoy the ride, and get flattened in a safe way.
IT IS ELEMENTARY MY DEAR FRIEND

We couldn't find who designed or made the Sherlock Sitter when doing our research…sounds like a mystery to me… The Sherlock Sitter should be renamed The Grandpa though because that is what I see when I look at it. I see my grandpa – his pipe was made of wood, my guess is rich mahogany, and it didn't have cannabis in it, but with the Sherlock Sitter, the vibe is the same.
It is retro, classic, vintage, and timeless all at once. Out of the three dry pipes I review in this article this one is by far my favorite. From the very beginning, I became enamored with the shape of it, but as soon as I smoked out of it, I was sold on the Sherlock Sitter a.k.a The Grandpa.
I have had a plethora of different pipes in my years of existence, and this is by far my favorite. It feels like something special in my hands. The only thing that makes it better is that there is also a Sherlock Classic available at Nectar!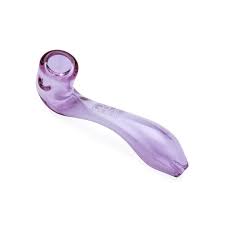 The way The Sherlock Sitter feels in your hands is like it is supposed to be there. The bowl is wide and deep, but the hole is also just the right size. Allowing you to pack the bowl full of ground bud or full nugs – dealers choice!
Once you light up, the pipe cherries well and allows you to puff on it like you are a distinguished person by a fireplace punctuating your sentences between the crackles of the fire. No scooby snacks here, the build allows for amazing airflow, with the snacks getting stuck on the bottom or at the back before they make their way up the elegantly shaped mouthpiece like that of a swan. – like I said this piece is beautiful, can't say that enough.
It is simple in all the right ways , and I do not think I can live without it now, thanks to GRAV for another addition to the collection. It is small and easy to pack with you, I can fit it in my pocket and there does not seem to be a downside, 10/10 would recommend not to mention they are available at your local neighborhood Nectar!
YOU'LL Always WANT THIS MILK CARTON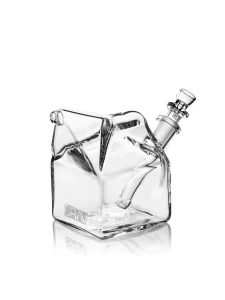 There is something very familiar about holding the GRAV Milk Carton, but I can't quite place my finger on it…. It certainly reminds me of a time in my life when all that mattered was that I got to the cafeteria for lunch with enough time to get that delicious cafeteria pizza and be done eating with enough time left to still play basketball outside with my friends. This piece is more than nostalgic, GRAV makes you realize you were missing something in your collection all along with this piece. Something fun, unique, and special.
It stands at a modest four inches tall. It has a 14mm female joint and comes with a 14mm cup bowl, and works with the GRAV 14mm 45-degree male banger and with its fixed fission down stem which with its open body provides amazing dispersion all while the small opening in the carton's spout minimizes splash back and those pesky Scooby Snacks we keep mentioning.
There were times life in when maybe you would turn things like this into a piece but never was it executed in such a beautiful way. This transparent glass Milk Carton is PERFECT, add a little bit of water, load yourself a nice medium size bowl of some Smoke-Rite or Applegate Valley Oregon or switch it out and get your dab on with The Refinery's new line of extracts but make sure you have your trusty Puffco Hot Knife if you do!
Whatever way you choose to approach this piece you will get milky crispy snaps out of this every time and much like all Grav Glass it will be hard to put down but once you do you might end up on a real milk carton with how high you'll be from finishing all your "milk". It'll have you shouting They need some milk at your friends until they tell you you're too high and to walk home.
FINAL THOUGHT
Before I started this article, I'd only ever known of GRAV glass, I had never actually partaken in any GRAV glass activities – silly me. Now that I've researched the company and tried a few of their products I'm hooked. This company was founded out of true cannabis love and the love for creating quality products.
That is something I can get behind and we hope you can too – it's all formed out of constructive connections with others and that is beautiful. You can find any of these pieces on Nectar's website or you can stop by one of our locations all over Oregon and find out for yourselves how GRAV Glass is a step above the rest. If you are looking for even more quality glass for dabs then check out our articles on MJ Arsenal Glass and all their accessories.