Written By: Daniel Cina  
It truly has been unexpected how much national news we have been seeing with cannabis these past few months, but we have more! A big announcement has come from President Joe Biden as on December 8th he announced the release of WNBA star Brittney Griner from her 9-year Russian prison sentence. Brittney Griner's release happened through a prisoner exchange with arms dealer Viktor Bout.
This news has come about after long months of painstaking negotiations between the United States and Russia to secure Britney Griner's release following her arrest at a Russian airport for possessing cannabis oil. Joe Biden, this morning announced that she is safe and currently on her way back to her family where she should have always been, instead of the brutal prison conditions she faced. 
The Exchange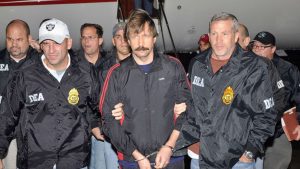 The prisoner exchange involving Brittney Griner and Viktor Bout took place at the Abu Dhabi airport this morning, with the United Arab Emirates facilitating and mediating the exchange. The Russian Foreign Ministry put out a statement today, that this was a U.S. decision that they were happy with the location of the exchange between Brittney Griner and Viktor Bout aka The Merchant of Death. 
Viktor Bout is a former Soviet military officer, serving a 25-year sentence in the United States with charges of acquiring and exporting anti-aircraft missiles, providing material support to a terrorist organization, and conspiring to kill Americans. The Kremlin has protested his sentencing, labeling it "baseless and biased" since 2012, and Viktor Bout himself has maintained his innocence. To put Viktor Bout and who he is into perspective for you, his arms-dealing work, specifically in Africa, is the inspiration behind Nicolas Cage's character in the brutal film Lord of War. 
Joe Biden on Paul Whelan and Brittany Griner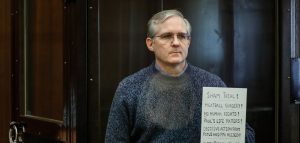 We are so glad to see Britney Griner be brought home after these months of imprisonment, but regretfully today comes with mixed emotions as another wrongfully detained American, Former-Marine Paul Whelan, was not able to have his release secured. This did not go unacknowledged by Joe Biden as he stated today, "This was not a choice of which American to bring home. Sadly, for totally illegitimate reasons, The Kremlin is treating Paul's case differently than Brittney's, and while we have not yet succeeded in securing Paul's release, we are not giving up. We will never give up."
Brittney Griner also recognizes this with a statement from her wife Cherelle Griner stating that they both "will remain committed to the work of getting every American home, including Paul, whose family is in our hearts today." Paul Whelan was detained in 2018 on accusations of espionage and in 2020 was sentenced to 16 years in prison. We hope in the coming months that something is done to secure his release as Brittney Griner's was secured. 
The Implications  of Russia's War On Ukraine 
As you all know Europe is seeing its largest conflict since World War II with the Russian invasion of Ukraine, and this undoubtedly has increased tensions between them and Western Countries. This tension can not be denied as a factor in the difficulty of securing Brittney Griner's release, as we have been seeing an escalation in this tension over her 10 months of imprisonment. We do not know where this escalation is heading, but we can only assume it will make securing the release of Paul Whelan and the 17 other Americans (Moscow claims this is the amount) held in various prisons even more difficult.
Unfortunately, these negotiations have to be done through an uncompromising totalitarian government with Soviet Extremist Vladimir Putin at the head. America's support of Ukraine only further complicates negotiations, but with time and great effort, we will see the tide turn in Russian negotiations and hopefully witness further failure in their inhumane attack on Ukraine. 
Looking Forward

Seeing Brittney Griner's release is truly an awesome thing to see for Americans, but especially for our community of cannabis users. We have been seeing mass cannabis possession pardons from Joe Biden and other governors across the U.S.A and now we get to celebrate an American being brought home from a harrowing and inhumane Russian prison sentence for nothing more than possessing a cannabis cartridge. While we are heavily fighting the stigmatization of cannabis in our own country and have made great strides in this, we must remember that not every country shares America's growing positive opinion on cannabis. 
Brittney Griner is the unfortunate victim of being in the wrong place at the wrong time with her arrest, but truthfully it could have happened to anyone in the cannabis community who enjoys international travel. It is so important to recognize that cannabis is still considered a major illicit drug in some countries and as unfortunate as it is, there is not much we can do except be aware of that fact. There are many cannabis-friendly countries to visit but you have to be aware of ALL the implications of traveling with cannabis in a foreign country otherwise you may be the one facing an arrest one day.
*** Traveling with cannabis across state and international borders is illegal according to US Law and Nectar does not endorse nor recommend engaging in this activity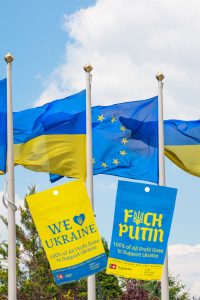 We are extremely happy to see Brittney Griner be released and be able to return to her home and family in the United States. Time will tell what the history books say about the invasion of Ukraine, but for now, we can lend our support to Ukraine and its people while they defend their homeland. Remember that every time you purchase a Gateway We ♥ Ukraine or F*CK Putin Ukraine Gummy pack at your Local Nectar, 100% of the proceeds go to Ukrainian Care and Come Back Alive, two amazing Non-Profits that are directly supporting and aiding Ukrainians.
For now, though, let's all celebrate the victory today of securing Brittney Griner's release, but we must remember there is always more to be done in our fight for cannabis reform. More importantly, however, there is more to be done to aid Ukraine and its people as they fight for their lives and land. While as an individual it always appears that there is little we can do by ourselves, I'd like to finish this article with a quote about this notion for all of us to reflect on: 
I alone cannot change the world, but I can cast a stone across the water to create many ripples. Mother Teresa