Written By: Daniel Cina 
The pageant world is no doubt immense with over 5000 competitions in existence, but only 2 of these pageants feature women with mobility impairing disabilities. We are here today to talk about one of these amazing pageant competitions known as Ms. Wheelchair America. With the spirit of pageantry in mind Ms. Wheelchair America sets out to prove that all women no matter their disability can exude beauty, confidence, and glamor in their personal and professional lives. 
This event is truly an amazing spectacle that is focused on the advocacy and advancement for those who live with disabilities, and Nectar could not be prouder to sponsor Oregon's representative! Allow me to introduce you to Ms. Wheelchair Oregon Melinda Preciado. Melinda is an amazing woman, and her story is truly an inspiration to me and to the many others that know of her exploits. 
Melinda Preciado's Story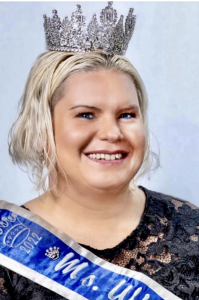 Melinda is a Springfield, Oregon native where she served as an ER technician for many years until January of 2021 when she went through a traumatic experience that resulted in an above the knee amputation of her right leg. Like anyone who goes through a traumatic event, the necessary life adjustments were very difficult to process for Melinda. Her once active lifestyle became sedentary, and like many others who go through limb loss she felt pain, depression, and anxiety while fighting through these hardships. 
These hardships are not unique to Melinda. Many people who deal with limb loss and other disabilities face a tough reality that the world around them is not built for their accessibility. This when paired with the emotional and physical pain surrounding limb loss creates a rise in the homebody mentality due to the lack of ADA accessibility in our society. This in turn leads to depression and anxiety because those who suffer from major limb loss such as Melinda feel stuck in their wheelchairs and in their homes. 
While Melinda Preciado faces these challenges like many others, what makes her unique is how she channels negativity into positive impacts. One of the toughest things for a person to do is see the light during dark situations, and her ability to do just that makes Melinda truly amazing. She saw this traumatic experience as an opportunity to help, serve, and advocate for others who face these challenges, and she began this journey of serving others by joining Springfield's Power on With Limb Loss board.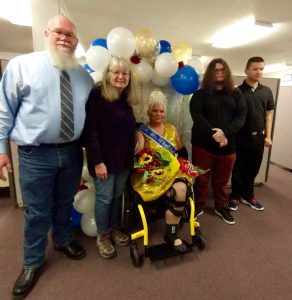 The work she has done for this organization has allowed her to continue her mission by helping and serving others with activities such as adaptive skiing, archery, biking, and many more activities so those with disabilities can get to experience fun and awesome activities that everyone enjoys. The work she does is truly an inspiration, but she felt like she still needed to do more to support those who face limb loss and other disabilities, and one day during rehab a friend sent her a link that would change her life.
The link she was sent was to the Ms. Wheelchair Oregon pageant, and at this point Melinda had a choice. She could continue to dive deeper into the noble work she currently does for Power on with Limb Loss or take a shot with the competition in the hopes to continue her advocacy with a larger platform. When faced with this choice Melinda couldn't help but think of a fellow nurse who faced her own disabilities and struggled to find employment due to them. And so with a selfless attitude Melinda Preciado decided to enter Ms. Wheelchair Oregon where she was crowned the winner. 
As a result of taking this chance and winning Ms. Wheelchair Oregon, Melinda now has the opportunity to advocate for those who live with limb-loss and other disabilities on a national platform. When asking Melinda about what the chance to compete means to her she told us at Nectar that the opportunity to compete in Ms. Wheelchair America is an absolute gift, and she is wholeheartedly thankful that she has the opportunity to advocate for those who live with limb-loss. She felt that she has truly met some amazing people through these competitions, and it has given her a large platform for her to pursue her passion of advocacy for others. 

One of the most important things for us at Nectar is fostering a safe and friendly environment for our community because without our community Nectar would not be where it is today. We always aim for accessibility and convenience to quality cannabis for ALL of our customers. If we didn't have this thought in mind we never would've had the opportunity to meet and sponsor Melinda who utilizes our gummies and topicals to mitigate her physical pain and soreness. 
At Nectar, we recognize and celebrate all the benefits that cannabis can provide for customers. We truly believe it to be an amazing plant and we are so thankful to be in the position we are today to spread the amazing benefits it provides to the Oregon community. It brings us such joy that our products are capable of improving someone's quality of life. 
Ms. Wheelchair America
We are wholeheartedly thankful for the opportunity to sponsor Melinda and are so proud of the work she does to advocate for others who face limb-loss and other disabilties. We wish her the best of luck at Ms. Wheelchair America! Ms. Wheelchair America pageant week begins August 15th with leadership training advocacy events, and mentoring sessions with the culmination being the main competition on August 21st.  It will truly be an amazing educational experience and witnessing these amazing contestants compete will be an absolute spectacle. 
So be sure to check this awesome pageant out. For those that wish to attend for themselves, Ms. Wheelchair America will take place at the Amway Grand Plaza Hotel in Grand Rapids,Michigan. So with all this being said make sure you check out Ms. Wheelchair America's website for further information about the competition so you can help us support Melinda Preciado as she graces the stage. So Good Luck Melinda! Nectar Cannabis and the great state of Oregon has your total support!