Thank you Nectar Community for coming out and showing your support. On Veteran's Day, November 11th, 2020, we raised over $17,000 to donate to the Wounded Warrior Project!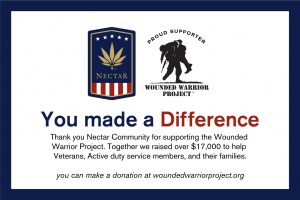 The Wounded Warrior Project
The Wounded Warrior Project supports American Veterans, active duty service members, and their families with a variety of services. Here's a bit more about their mission in their own words:
"More than 52,000 servicemen and women physically injured in recent military conflicts. 500,000 living with invisible wounds, from depression to post-traumatic stress disorder. 320,000 experiencing debilitating brain trauma. Advancements in technology and medicine save lives – but the quality of those lives might be profoundly altered. The numbers speak for themselves, because not every warrior can. With the support of our community of donors and team members, we give a voice to those needs and empower our warriors to begin the journey to recovery."

https://www.woundedwarriorproject.org/mission
If you didn't stop by a Nectar store on Veterans Day but still want to provide your support, make a donation to the Wounded Warrior Project here!