The Nectar Team is excited to announce we've opened our new Nectar Forest Grove Location! What makes this Nectar Forest Grove extra unique? It is less than a five-minute walk from the famous McMenamins Grand Lodge, making it the perfect stop for any traveling cannabis enthusiast.
McMenamins Grand Lodge
McMenamins is known across Oregon to provide some of the most unique places to stay, play, and eat. Their hotels, pubs, and restaurants are Pacific Northwest neighborhood staples, attracting locals and visitors alike. McMenamins' unique establishments are often renovated landmarks in neighborhoods. They restore historic buildings with life, unique decor, music, and great Northwest food. Each property has a long history, including the Grand Lodge in Forest Grove, Oregon. 
Here's a quick rundown of the history of McMenamins Forest Grove location: 
1917 – Designs are initiated for a Masonic & Eastern Star Home for the State of Oregon.

June 16, 1920 – The first cornerstone for the home was laid.

February 24, 1922 – The first resident, Brother Henry Mounts, moves in.

November 1926 – The smaller building, called the "Children's Cottage," is completed.

1962 – The Columbus Day Storm tore the roof off and uprooted twenty trees.

1970 – The offices of the Oregon Grand Lodge are relocated to the former Children's Cottage.

1988-89 – The Masons build the Jennings-McCall Center, a 72-unit elder-care apartment complex North of the Masonic Home.

1999 – McMenamins agrees to become the new "custodian" of the great old property.

March 1, 2000 – The property reopens as McMenamins Grand Lodge.

September 29, 2020 – Nectar Forest Grove opens across the street! 
Today, The Grand Lodge in Forest Grove offers guests unique hotel rooms, two restaurants, a spa, free live music, and lively events. The 90-room property offers all the conveniences of a resort setting. It is complete with the Doctor's Office Bar, including McMenamins' signature pool tables, as well as a full-service spa and outdoor soaking pool.  It is also conveniently located just 25 miles outside of Portland and an hour drive from the Oregon Coast.
Plan Your Trip to Forest Grove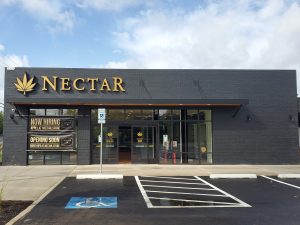 When you're ready to get outside of The Grand Lodge and explore all that Oregon has to offer, grab a preroll from around the corner at Nectar Forest Grove and head into the Tillamook State Forest for hiking. Or grab a cartridge and vape pen, and head to Hagg Lake for fishing, boating, hiking, biking, or a zip-line ride in the park next door. Then wind down your day with your favorite Oregon-made edible from Nectar, and a glass of Oregon Wine Country wine or SakéOne, the leading brewer of craft saké in the nation. 
When adventuring to and from the McMenamins Grand Lodge, be sure to place an order online at Nectar Forest Grove first. By the time you walk down the entrance and across the street, your order will be ready and waiting for you. If you prefer to be spontaneous, we are here for you too. Walk less than a quarter of a mile to Nectar Forest Grove and chat up our knowledgeable Budtenders about the best cannabis products Oregon has to offer. We look forward to serving you in Forest Grove soon!