The Better Business Bureau Northwest + Pacific is proud to announce Nectar Cannabis and Superior NW Home Inspections as Oregon's 2019 Spark Award for Ethics winners! The BBB Spark Award honors organizations that demonstrate exceptional commitment to building trust and integrity with their customers, fellow business owners, and communities.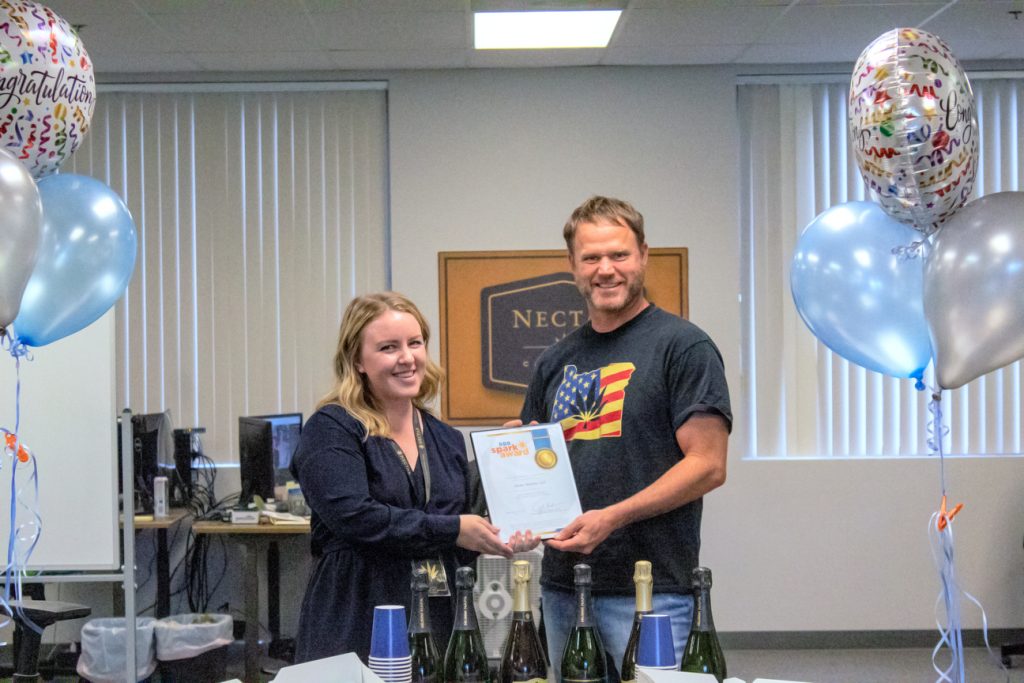 Nectar, which has 17 locations in the state, was one of 10 finalists up for the BBB's highest honor, which is voted on by a panel of judges from outside the state.
The BBB Spark Award is the most prestigious award presented to exceptional new businesses for their dedication to integrity and ethical business practices. Recipients generate a high level of trust among employees, customers, and their community, and most importantly embody BBB's mission of advancing marketplace trust.
"It's terrific (that a dispensary won this award), it's exciting." BBB Vice President of Marketing David Quinlan said. "This is the most prestigious award we can give a business. It speaks volumes about Nectar."
Nectar became one of the first companies in Oregon approved for recreational cannabis sales, before expanding to 17 dispensary locations across the state. In an emerging industry flooded with companies looking to make quick profits, Nectar stands out at the head of the pack. It is one of the largest, fastest-growing vertically integrated companies in Oregon. Nectar is always growing and always looking for the next opportunity to spread the best industry practices and standards. They are a proudly BBB Accredited Business with an A+ rating, and striving to set the standard of professionalism within the cannabis industry.
"We feel really honored that the Better Business Bureau gave us their Spark Award for New Business of the Year in Oregon," said Nectar owner and CEO Jeremy Pratt. "This is an amazing recognition of all the hard work that our employees put in every day."
This year, an overwhelming number of businesses and charities were nominated for the Torch Award for Ethics. Each applicant goes through a meticulous application process that is then reviewed by independent, voluntary panels of judges comprised of community leaders.
"That Nectar is being honored this early in the game really says a lot about your business," BBB Portland Marketplace Manager Danielle Kane said.
Significance of The BBB Spark Award 
We are truly honored to be the recipient of this years BBB Spark Award, and we would like to take the time to thank you, our valued customer and community members. Obtaining the BBB Spark Award could not have been achieved without your constant support of our business, and so this BBB Spark Award is your accomplishment as much as it is ours. For that we truly thank you!