Order Online & Curbside Pickup at Nectar!
1 Place your order online at nectar.store. Please reach out to the store if you have any issues with viewing the menu or deciding between products — We are still here to help! Or check out our step-by-step online ordering instructions here. Our budtenders are here to help you with curbside pickup at Nectar! 
2 When completing your order, select the option for "Pickup (Curbside)"
3 Add the make, model and color of the car you are picking up your delivery in under "Special Instructions". This will help our team identify your car when you arrive and provide fast service. 
4 You will receive a text through dutchie that their order is confirmed. Please note — you cannot text or call this number back, it is a random number generated through dutchie.
5 If your cart has any additional discounts that need to be applied, the Budtender will do so and follow up with a phone call to update you with the exact total for your order. You will then receive a text through dutchie that your order is ready for pickup.
6 Drive to the dispensary, if you aren't already there. Park in the designated pickup area, marked with signs and/or cones.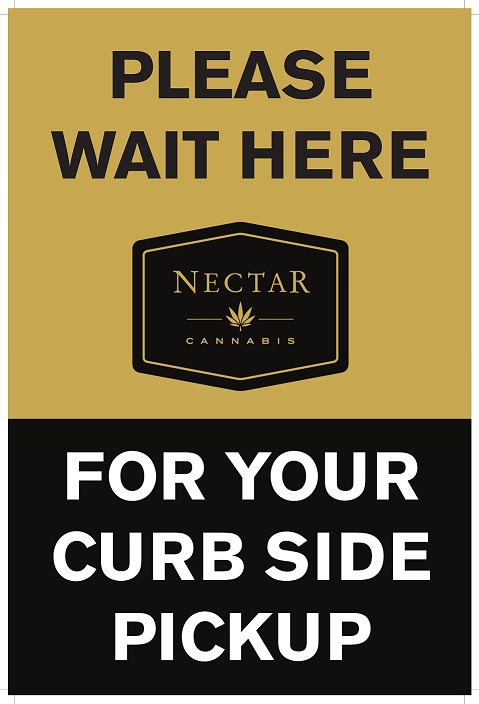 7 Call the store to let them know you have arrived, the name of your order, and what make/model/color car you are in. 
Nectar Store Phone Numbers:
| | |
| --- | --- |
| Allen Blvd (Beaverton) | (503) 626-1994 |
| Aloha | (503) 746-4444 |
| Barbur | (503) 477-8800 |
| Burlingame | (971) 754-4956 |
| Gresham | (503) 512-8123 |
| Hall Blvd (Beaverton) | (503) 626-2163 |
| Hazelwood | (971) 279-2512 |
| Hillsdale | (503) 477-9850 |
| Lents | (971) 229-1600 |
| Milwaukie | (503) 908-8564 |
| Mississippi | (503) 206-4818 |
| Montavilla | (503) 719-7318 |
| River Road (Eugene) | (541) 255-2457 |
| Salem | (971) 707-4184 |
| Sandy | (971) 703-4777 |
| Springfield | (541) 654-8136 |
| Tillamook | (503) 354-2074 |
8 A Budtender will meet you at your car. Please hold up your ID for the Budtender to verify it, review your order, and provide cash payment. The Budtender will go back into the dispensary and complete your order at the register.
9 A Budtender will then bring back your change, hand you your order, and send you safely on your way.
Make your life easier with Curbside Pickup at Nectar so you don't even need to leave the comfort of your car! With accessibility as an integral part of our mission, we see curbside pickup at Nectar as an absolute necessity for those who may not feel comfortable entering a store. So experience the premium convenience and accessibility of curbside pickup at Nectar!  
Curbside Ordering:

You could also place a curbside order and pickup, where you order from your car. The Budtender will take your order, go inside, process the order, come back out, inform you of the subtotal, verify your ID, collect cash payment, make change, and then bring you your order.