Written by: Summer Hussain
A fellow stoner experience:
After a long day of work, I love to come home, throw on my lazy clothes and consume a great big bowl of an Indica strain flower. I excitedly run to my bong but realize that I maybe have been smoking too much. My bong definitely does not have clean glass. To my demise, I say whateveeeeeer & load the bowl up.
As I am smoking, I accidently take a hit too fast, and that bong water shoots up at me mid fade.
If you are a stoner like me, then you know this story all too well and you know how NASTY that bong water can be. You may also know that we all slack off on keeping clean glass…
_____________________________________________________________________________________
 How Safe Is It to Slack Off On Having Clean Glass?
Do you know how much bacteria tends to harbor on a dirty pipe or bong?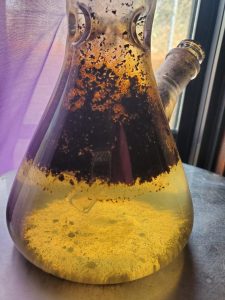 (Source) Studies show that on average, there is a:
1304% more bacteria on your bowl piece than a dog bowl
530% more than an average cell phone screen
92% more than an ATM keyboard
90% more than the average dumpster
49% more than a toilet seat
___________________________________________________
When this much bacteria and grime are present, you may notice something called "biofilm" built up on your bong. Biofilm is a "thin, slimy film of bacteria that adheres to a surface." Not only is biofilm super gross and preventative to having clean glass, there is a number of health risks imposed with it.
_____________________________________________________
If you are looking for a reason to keep clean glass, fear not, here are some reasons on why you SHOULD clean your glass weekly:
A dirty bong compromises the terpenes taste in your flower. Certain terpenes give off certain tastes and smells. Each cannabis strain has its own unique terpene profile that goes unexperienced if you don't toke out of clean glass
TONS of bacteria, fungi, yeast, or harmful pathogens live in the nasty biofilm which can cause serious damage to your lungs and ability to breathe
E. coli thrives in biofilm and dirty bong water
Dirty bong water can cause strep throat and pneumonia
Dirty water can turn into mold which can ruin your glass
You have the ability and power to never clean your bong and let it get to that level. If it does, you must understand that it will end up being damaging for your health. With that being said, how often should you clean your glass? On average, it depends on the amount you consume. If you are a heavy smoker, try changing the bong water every time you are done smoking to reduce biofilm. If you are a light smoker, you can get away way with cleaning it weekly. Whether you are a heavy or light smoker, your standard clean should be weekly to reduce harmful bacteria and pathogens.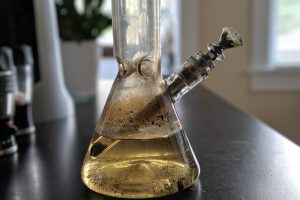 If you maintain good upkeep on having clean glass, using a 99% isopropyl alcohol base and hot water should do wonders on cleaning your piece. Typically, you can find 99% isopropyl alcohol at your local grocery or pharmacy store. It is recommended to use salt to get  extra squeaky clean glass, but personally, I skip on using it because it feels like an extra step. Taking that extra step does ensure that it receives a deeper, thorough clean.
The best way to use the alcohol and hot water to clean your piece is by grabbing any container you do not mind getting ruined or weed smelly. Make sure you have some Glob Mops and gloves on because it can get pretty sticky due to the previous resin buildup. You can also use q-tips, but Glob Mops are stronger and specifically designed for cleaning glass. They are sold at most Nectar locations so be sure to check them out.
Gently put your bowl piece, down stem, pipe, etc. inside the container (my bowl piece broke while doing this so be careful). Inside the container with the pieces, add in 99% isopropyl alcohol and hot water (you are essentially giving your glass a bath). Let the pieces soak for five to thirty minutes depending on how dirty it is. If you have a bong, fill the bong with some salt (optional) and 99% alcohol. Add in some hot water and allow it to settle in the mixture for a little.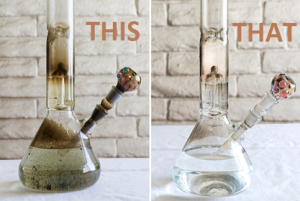 Once time has passed, grab the container with the glass pieces and use the Glob Mops to clean the ash/resin on the piece. It should clean easier if it has been given enough soak time. Once you are done cleaning the pieces, pick up your bong, cover the mouthpiece and down stem area to shake the alcohol and hot water vigorously. Continue doing this until you have clean glass that is crystal clear.
Once your piece goes from this to that, you are all set & have a new piece of glass!
If you have a piece that is incredibly dirty, grimy or both, you might benefit from using a formula solution that will easily clean your piece making it brand new. I recommend checking out the website below to see what the best solution for your glass may be.