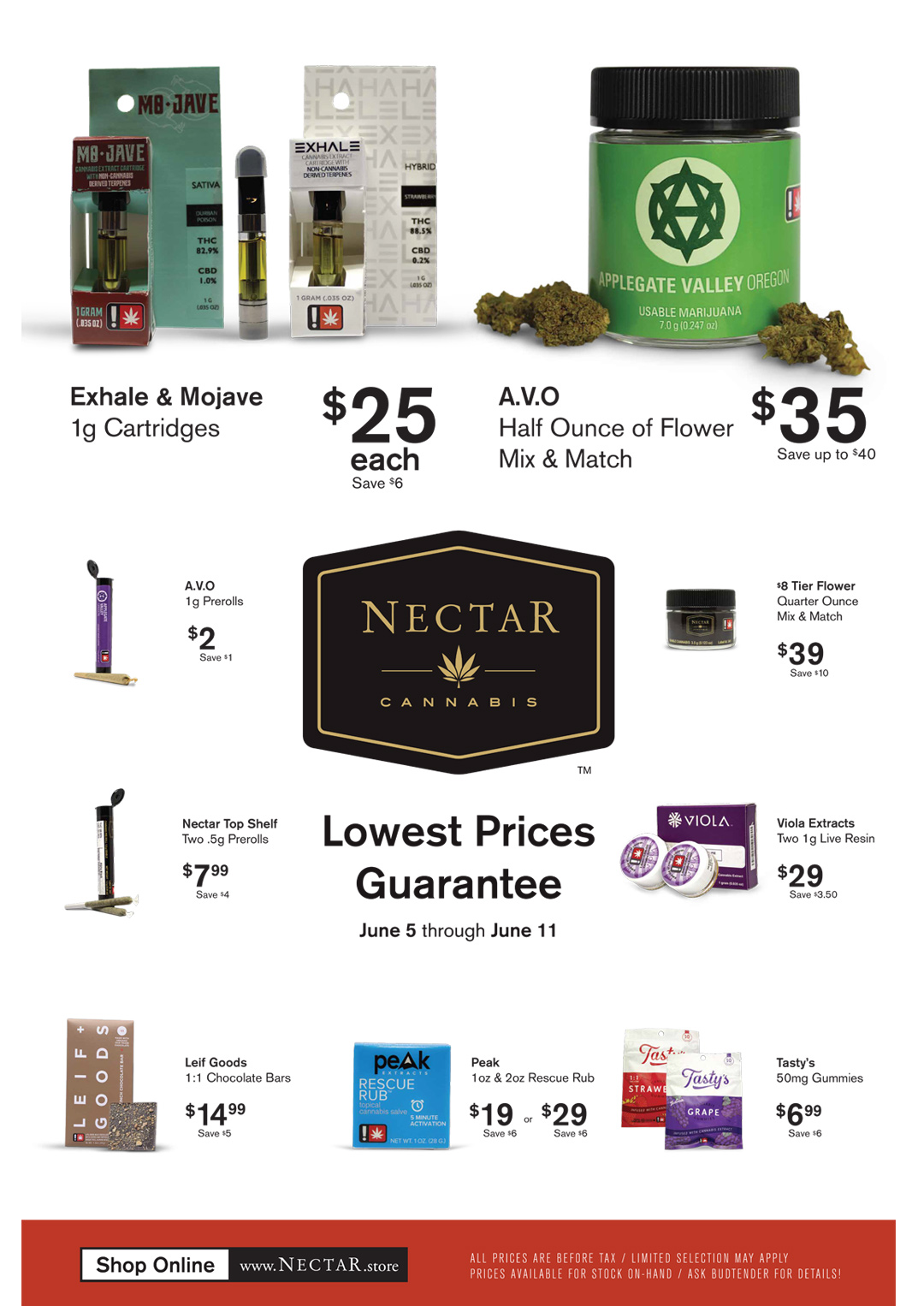 Nectar offers the lowest prices on Oregon grown cannabis every day, guaranteed. We are Oregon grown and Oregon owned, allowing us to offer the best deals in the Oregon cannabis market as we care for our cannabis from seed to our store. With Nectar-owned farms located across Southern Oregon and even more Nectar stores opening across the state of Oregon, Nectar stays focused on bringing cannabis to the people. We are open every day, 365 days a year, rain or shine, not allowing anything to stop Nectar Cannabis from offering Oregon consumers the cannabis they want, at the lowest prices the local market can offer. In addition to providing the lowest prices on cannabis in Oregon, we offer deals that highlight our top vendors and products, seven days a week. We offer deals on quality cannabis products, ranging from flower to edibles, cartridges to concentrates, and topicals to tinctures. With our best deals covering a variety of cannabis products every week, every day, we can guarantee that you are getting your Oregon grown cannabis at the lowest best prices Oregon has to offer. Check out what your local Nectar Cannabis store is offering this week and be sure to tell a friend! Snag these deals while they last!
Weekly Deals: June 5th – June 11th
Flower:
AVO Half-Ounce of Flower, Mix & Match for $35 per Half
$8 Tier Quarter-Ounce of Flower, Mix & Match for $39 per Quarter
Prerolls:
AVO 1 gram Prerolls for $2 each
Nectar Top Shelf 0.5 gram Preroll 2-Packs for $7.99 each
Edibles:
Tasty's 50 milligram THC or 1:1 Gummies for $6.99 each
Leif 1:1 Chocolate Bars, 25% Off
Cartridges:
Exhale and Mojave 1 gram Cartridges for $25 each
Concentrates:
Viola Extracts 1 gram Live Resin, Two for $29
Topicals:
Peak Extracts 1 ounce & 2 ounce Rescue Rubs, Save $6 each
All prices are before tax.
A limited selection may apply.
Prices available for stock on-hand.
Ask a Budtender for details.